GAME Credits Announces the GAME Foundry to Help Games, Creators and Streamers Create Their Own NFTs
---
Antigua, November 11, 2020 — Today GAME CREDITS is happy to announce the launch of the GAME Foundry, a robust creation tool that allows Developers, Gamers, Streamers, Creative Artists, and all others, the ability to make their own custom digital items known as non-fungible tokens (NFTs).
The creation and transfer of digital items (NFTs) on the Ethereum blockchain has become extremely costly due to high transaction fees on the Ethereum network, otherwise known as gas prices. The process may also be further delayed due to slower network effects on the Ethereum Mainnet. In addition to having a simple and user-friendly interface, GAME Foundry alleviates both the problems of cost and time, all while eliminating the need for any blockchain-related requirements.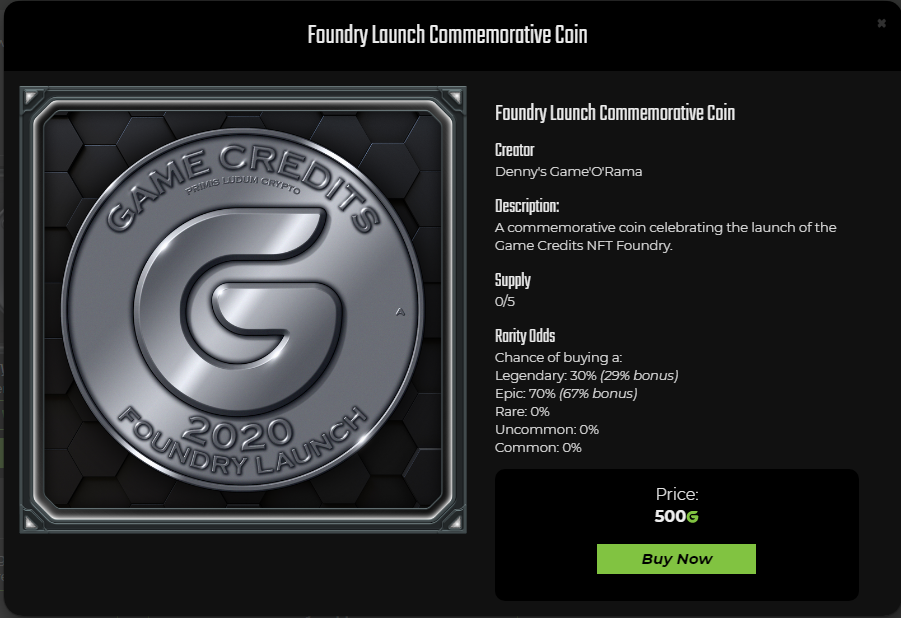 Create and Deliver Digital Assets at a Lower Cost
GAME Foundry is a tool that creates and delivers these digital items at a fraction of the cost, as creation and delivery fees are paid using $GAME, an ERC-20 token created on the Ethereum Blockchain Network, and the native token of the GAME CREDITS Platform.
Create and Deliver Digital Assets Quickly and Securely
GAME Foundry takes advantage of faster transaction speeds by running on sidechains. Developers Continue to Earn on NFTs Post-Distribution. In addition to the lower cost to create game assets, using blockchain also helps to ensure the secure transfer of these items.
Developers who use GAME Foundry will enjoy earning commissions on those digital items each and every time a player sells them in the decentralized GAME Exchange System.
About GAME CREDITS
GAME CREDITS ($GAME), formerly known as Gamerscoin, launched in February of 2014, making it not only one of the very first cryptocurrencies to be launched but the very first to be focused solely on games. The primary focus of GAME was, and remains, as a digital currency. Since its inception, GAME has been used both to revolutionize in-game purchases as well as to give game developers a monetization based on the fair play rules that the technology of blockchain affords.