Dear friends and community, 
As we near the close of 2021, we're reflecting on all that has happened over the past year. These months have been life changing for many folks at the intersection of crypto, gaming, arts and media. Early in the year we saw the gaming industry cool toward crypto innovations, at the same time digital item ownership drew mainstream attention. When we look back at the state of the industry a year ago, it is fascinating to see we've come far enough that Collins Dictionary has selected 'NFT' as the word of the year!
As the crypto community and media focused attention on the explosive growth of NFTs, we added improvements to our NFT minting platform and began development of the bonded NFTs that will underpin the Genesis Worlds metaverse. Planning for Genesis Worlds began in 2020 and 2021 proved the perfect time to begin development. (Though we didn't anticipate our $GENESIS token launch would occur on the same day as that other high profile metaverse announcement!)
In November we had the opportunity to support the $GENESIS token launch. $GENESIS is listed on QuickSwap and available to farm at https://genesis.game/farming. More than 39M $GAME is now locked in farming, and the GameFi community is loving the APR! We've been updating company and token info across token listing sites to make sure they're sharing accurate information. With feedback from the community, we completed user experience updates on the Genesis website, and created new tutorials to help support the token exchange and farming processes.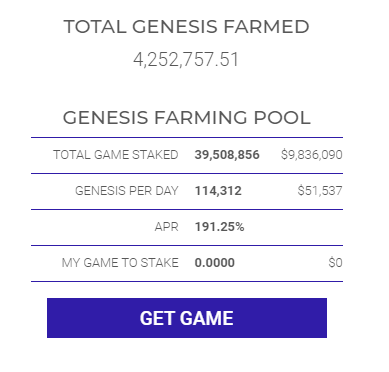 Our community is growing and we're meeting people with a broad range of interests and goals. We are implementing changes to our Discord server to better protect the growing community from scammers, and to provide relevant channels for discussion. In November we added several new language channels and will continue to evaluate requests for new channels as they arise. Long time lurkers are introducing themselves and joining the conversation. We can't wait to meet more of you! Look for team members with the 'Verified Staff' role and introduce yourself.
Or come and talk to us directly – we're spending more and more time  participating in live, synchronous events. We host weekly conversations in our own Twitter Space, and have been presenting in Spaces hosted by other communities and organizations, such as Polygon. (Feel free to suggest cool Twitter Spaces we should check out!) We joined the SunGens Discord for a live AMA with their community and we presented at Demo Days with the Blockchain Game Alliance. This week we have team members making connections in Miami for DCentral Miami, NFT Basel, and Art Basel. To get more time with the team, you can find us on:
– Telegram
– Discord
– Twitter
– Email [email protected]
For first access to Genesis Worlds news, make sure you sign up for the email list at https://genesis.game/. In the coming weeks, we'll be sharing the confirmed release date for the Genesis Worlds Mining Claim NFTs. Thank you for joining us on this exciting journey. We know you'll love what's coming next!